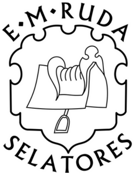 I spent my childhood surrounded by the tools and craft products that my father was making in his workshop. The possibility of creating beautiful and practical things with the use of tools was an inspiration for me to develop in this direction.
My interests went beyond the workshop work, which resulted in obtaining a master's degree in biology at the University of Lodz. Although academic reality seems to be far from the saddlery art, many scientific articles in this field are directly related to biological sciences.
Around what I have been doing there always have been many people who taught, advised and inspired me, which resulted in a huge interest in the 16th-17th century Italian classical art of horse riding. You can see the results of research on the old Italian equestrian treatises on my personal blog.
Growing up in the countryside, I dealt with horses from an early age, but only as a teenager I started learning to ride on a horseback. At the same time, it was the moment when I started to create riding equipment for my own needs.
Currently, each of my product undergoes my own empirical tests.
Ultimately, my specialty is the creation of saddles individually fitted to the horse and rider, which I try to expand gradually.

As of today, I can not imagine myself in a different role than the creator of such an amazing art.
Marcin Ruda